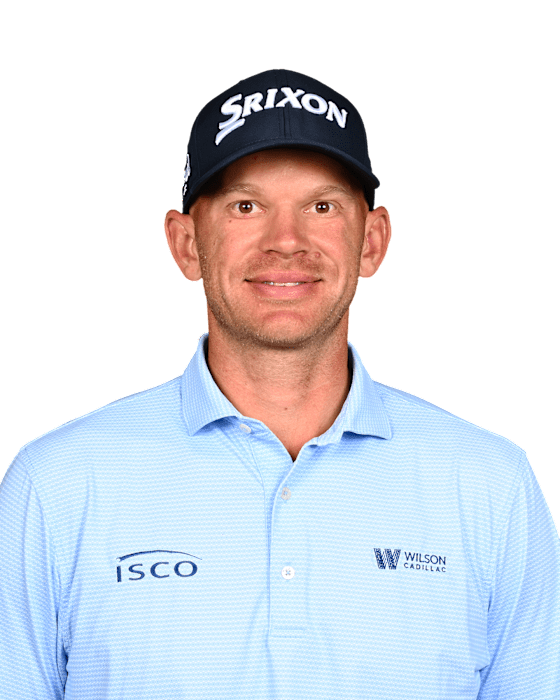 Jared Wolfe
Height: 6'4" (1.93 m)
Weight: 190 (86 kg)
Age: 34 (April 07, 1988)
Birthplace: Louisville, Kentucky
Residence: Ponte Vedra Beach, Florida
Family: Wife, Kelsey; Khloe Marie
Education: Murray State University (Business Marketing, 2010)
Special Interests: Fishing, working out
Turned Professional: 2010
City plays from: Ponte Vedra, FL, United States
Exempt Status
---
Career Victories
---
Korn Ferry Tour Victories (2):
2020 (2) The Bahamas Great Abaco Classic at Baha Mar, Wichita Open Supporting Wichita's Youth.
PGA TOUR Latinoamerica Victories (3):
2017 (1) BMW Jamaica Classic.
2018 (1) Volvo Abierto de Chile 2018.
2019 (1) Buenaventura Classic.
Other Victories (1):
2015 Indian River Open.
Player Statistics
---
Career Low Round:
65 - 2022 AT&T Byron Nelson (Round 4)
Career High FedExCup Rank:
#189 : 2022 The American Express
Career High Official World Golf Rank:
#197 : 2021 Corales Puntacana Resort & Club Championship (2020)
Career Largest Paycheck:
$55,112 : 2022 Valero Texas Open (Finished 29)
Career Records
---
PGA TOUR (Playoff Record: 0 - 0)
Season
Events
Rounds
1st
2nd
3rd
Top 10
Top 25
Cuts Made
Cuts Missed
WD
FedExCup Rank
Earnings
Total:
23
59
7
16
$189,112
2022
23
59
7
16
203
$189,112
(A) - Amateur
Personal
---
Attended Butler High School in Louisville. Earliest golf memory came at age 2 with a plastic set of clubs. Took a club out, took a swing and the ball hit his father, who was behind the camera videotaping him.
Always uses a coin with his wife's picture on it to mark his ball. Only uses broken tees on par-3s but won't use someone else's in his group who tees of before him.
Enjoys the Bible, Twitter, ESPN and Golf Channel apps.
Favorite teams include the Louisville Cardinals, Murray State Racers and the Jacksonville Jaguars.
Likes pizza and everything his wife cooks.
Carries Sans nutrition bars in his golf bag for snacks.
Favorite courses he's played include Pebble Beach and Valhalla, and he would like to play Augusta National.
Enjoys watching The Office, Brooklyn 99 and the Food Network.
Once played golf in front of Sean Connery in The Bahamas.
Has been a driver for Uber and Uber Eats.
Met his wife, Kelsey, on eHarmony.
Likes listening to old music, especially Need-to-Breathe.
Bucket list includes traveling the world with his wife, flying in a fighter jet and driving a supercar.
Involved with Fellowship of Christian Athletes.
Would like to trade places with Bobby Flay so he could be featured on Food Network and cook like a professional chef.
Says he started playing golf because he couldn't jump high enough to play basketball and was too slow for other sports.
Says if he weren't a professional golfer he'd be in law enforcement.
Has an older sister (Holly).