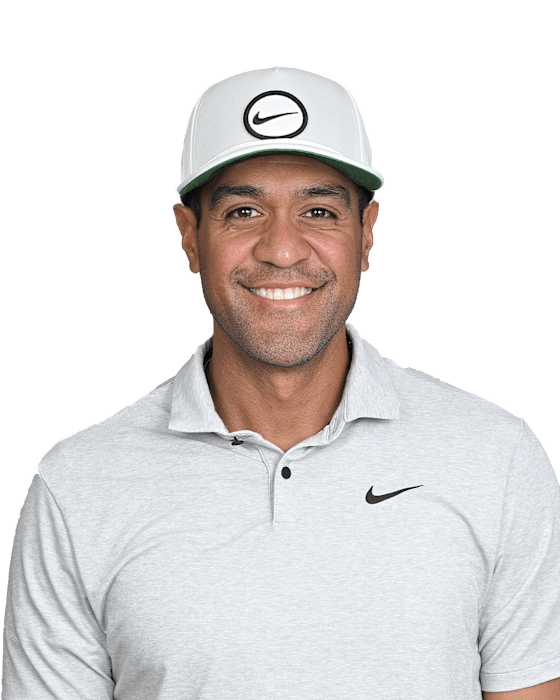 Tony Finau
(FEE-now)
Height: 6'4" (1.93 m)
Weight: 200 (91 kg)
Age: 33 (September 14, 1989)
Birthplace: Salt Lake City, Utah
Residence: Lehi, Utah
Family: Wife, Alayna; Jraice, Leilene Aiaga, Tony, Sage, Sienna-Vee
Special Interests: Fire knife dancing, playing guitar, watching movies
Turned Professional: 2007
City plays from: Salt Lake City, UT, United States

Exempt Status
---
PGA TOURTournament winner (thru 2024-25)
Career Victories
---
PGA TOUR Victories (4):
2016 (1) Puerto Rico Open at Coco Beach.
2021 (1) THE NORTHERN TRUST.
2022 (2) 3M Open, Rocket Mortgage Classic.
Korn Ferry Tour Victories (1):
2014 (1) Stonebrae Classic.
Player Statistics
---
Career Low Round:
62 - 2022 RBC Canadian Open (Round 3)
Career High FedExCup Rank:
#1 : 2021 THE NORTHERN TRUST
Career High Official World Golf Rank:
#9 : 2022 Fortinet Championship
Career Largest Paycheck:
$1,710,000 : 2021 THE NORTHERN TRUST (Finished 1)
2021-22 Season Highlights
---
Won the 3M Open and Rocket Mortgage Classic in back-to-back weeks and went on to finish No. 9 in the FedExCup standings, earning a bonus of $1.25 million. Became the first player to win consecutive tournaments on the PGA TOUR schedule since Patrick Cantlay at the 2021 BMW Championship and TOUR Championship and first to do so during the FedExCup Regular Season since Brendon Todd in 2019. Was one of three players on the season to win in back-to-back starts and one of nine to win multiple titles. Earned multiple victories in the same season for the first time in his career. Qualified for the FedExCup Playoffs for the eighth consecutive season and advanced to the TOUR Championship for the sixth year in a row. Finished the FedExCup Regular Season No. 7 in the FedExCup standings, earning a bonus of $1.4 million via the Comcast Business TOUR TOP 10. Earned one of the six automatic qualifying spots for the United States in the 2022 Presidents Cup.

PGA TOUR

Mexico Open at Vidanta - Finished T2 at the Mexico Open, his ninth career runner-up on TOUR. Led the field in Strokes Gained: Tee to Green (3.690 per round). Charles Schwab Challenge - Finished T4 at the Charles Schwab Challenge, his second top-five of the season. RBC Canadian Open - Held a share of the lead entering the final round of the RBC Canadian Open before finishing 2nd, earning the 50th top-10 of his career. Fell to 0-for-5 with the 54-hole lead/co-lead on TOUR. 3M Open - Won the 3M Open by three strokes, earning his third career PGA TOUR title in his 212th career start. Entered the final round trailing Scott Piercy by five strokes and recorded a closing 4-under 67. Became the fifth player on the season to face a 54-hole deficit of five strokes or more and go on to win (first since Sam Burns at the Charles Schwab Challenge). Rocket Mortgage Classic - Won the Rocket Mortgage Classic by five strokes the week after winning the 3M Open, earning his fourth PGA TOUR title. Held a share of the lead after the first and third rounds, winning for the first time in each of those positions. Hit 66 of 72 greens in regulation for the week, becoming the first player to hit 66 or more in a four-round event since Aaron Wise at the 2018 AT&T Byron Nelson. Hit all 18 greens in regulation in the first round, doing so in a round for the first time in his TOUR career. FedEx St. Jude Championship - Finished T5 in his title defense at the FedEx St. Jude Championship. Marked his third consecutive top-five on TOUR.
National Team Selections
---
Presidents Cup : 2019, 2022 Ryder Cup : 2018, 2020
Career Records
---
PGA TOUR (Playoff Record: 2 - 3)
Season
Events
Rounds
1st
2nd
3rd
Top 10
Top 25
Cuts Made
Cuts Missed
WD
FedExCup Rank
Earnings
Total:
216
743
4
10
3
54
104
169
47
$31,511,352
2022
25
86
2
2
7
9
20
5
9
$6,117,886
2021
27
90
1
2
8
16
22
5
11
$5,740,097
2020
20
72
1
1
7
10
16
4
17
$2,932,286
2019
25
84
2
1
6
12
20
5
7
$4,344,380
2018
28
98
3
11
19
25
3
6
$5,620,138
2017
29
104
1
8
12
24
5
19
$2,838,629
2016
28
95
1
2
10
19
9
45
$1,814,790
2015
31
106
5
16
22
9
43
$2,095,186
2011
1
2
1
2008
1
2
1
2007
1
4
1
$7,960
(A) - Amateur
Top Tournaments

---

PGA TOUR
THE PLAYERS Championship
Masters Tournament
PGA Championship
U.S. Open
The Open Championship
WGC-HSBC Champions
WGC-Dell Technologies Match Play
WGC-FedEx St. Jude Inv
WGC-Workday Championship at The Concession
2022
CUT
T35
T30
CUT
T28
T35
2021
CUT
T38
T8
T8
T15
T28
T34
14
2020
CNL
T4
T53
T65
2019
T22
T5
T64
CUT
3
2 (P)
T40
T27
T25
2018
T57
T10
T42
5
T9
T11
T17
T10
T27
2017
CUT
T44
T27
2016
CUT
CUT
CUT
T18
2015
T10
T14
FedExCup Playoffs
FedEx St. Jude Championship
Dell Technologies Championship
BMW Championship
TOUR Championship
2022
T5
T28
9
2021
1 (P)
T15
T11
2020
CUT
5
17
2019
T30
4
7
2018
2
T4
T8
T15
2017
T54
T65
T7
T7
2016
12
T24
T66
2015
T16
CUT
T47
Personal
---
Born in Salt Lake City, is of Tongan and Samoan descent.
First sport was fire-knife dancing, a Samoan ritual.
Member of the Church of Jesus Christ Latter Day Saints.
Third oldest of seven siblings, including four brothers and two sisters. Brother, Gipper, is the youngest player to make a Korn Ferry Tour cut, doing so at age 16 years, 20 days in Utah in 2006 (T58). His cousin is NBA basketball player Jabari Parker.
Played center on the basketball team and helped team reach the state tournament his junior and senior seasons. Averaged 11 rebounds per game as a senior. Chose to not pursue basketball and concentrated on golf instead despite college basketball scholarship offers. Turned professional at 17 after graduating high school.
Attended West High, the same high school as 1926 U.S. Amateur champion and five-time PGA TOUR winner George Von Elm.
Finished second on Golf Channel's "Big Break Disney" in 2009.
Favorite teams are the Los Angeles Lakers, the Dallas Cowboys, the Utah Utes and the USC Trojans.
Food lover. If not a professional golfer, he would be a chef.
Established The Tony Finau Foundation, built on a family discovered experience through the game of golf. It aims to empower and inspire youth and their families to discover, develop, and achieve the best of their gifts and talents through the game of golf, educational funding, and core family values.